"Tonus-Les" was declared as "The Best Pharmaceutical Company" of 2019-2020
2019-12-21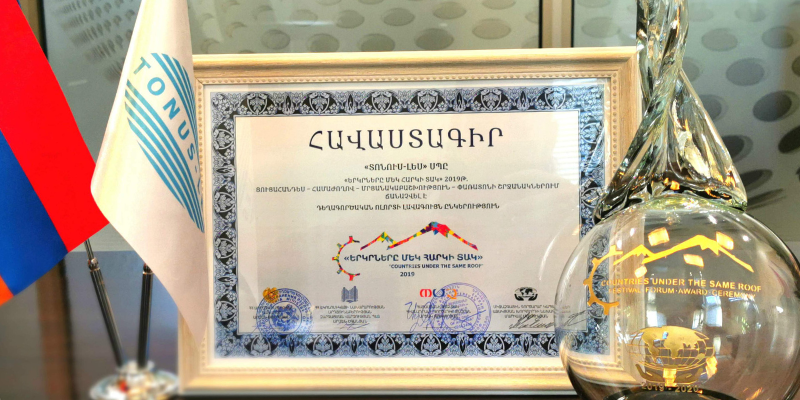 "Tonus-Les" pharmaceutical company was declared as "The Best Pharmaceutical Company" within the framework of "Countries under one roof 2019" award ceremony. The results of the award ceremony are based on expert opinion of special committee and the certificate is signed by Arsen Torosyan, Minister of Health of Armenia.
"Tonus-Les" started its activity from just one pharmacy and due to dynamic development and hard work nowadays it is one of the leaders of the sphere. The company is unique by its philosophy, adopted values and the investments done in the fields.
Currently its scope of activities includes:
Pharmacy chain and wholesale of medicines
CRO services and manufacturing of drugs under its own brand name
Official and exclusive representative of various outstanding pharmaceutical companies in Armenia and Georgia
Production of biologically active additives (by GMP standard)
Bioequivalence study clinic
"The honorary award of "The Best Pharmaceutical Company" is quite binding; it proves the professional and devoted work of "Tonus-Les".
With great enthusiasm and responsibility we will continue to provide safe and high quality medicines to the society, as well as, we will continually present innovations and new projects in the pharmaceutical field",-mentioned Commercial Director of "Tonus-Les" LLC Sergey Hakobyan.