Pharmaceutical Company of the Year
2017-07-27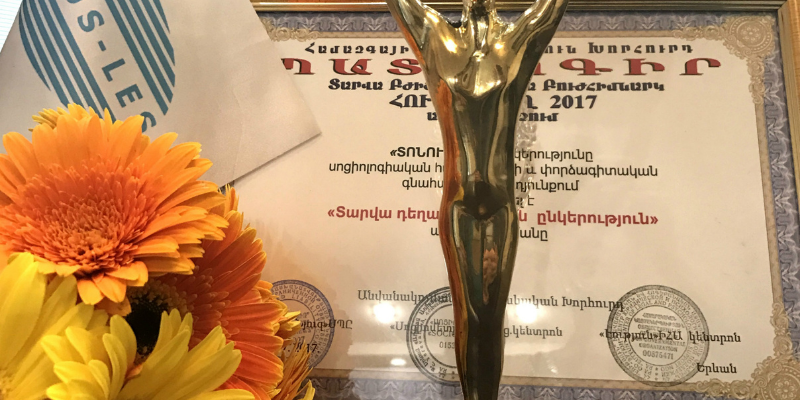 In 27/07/2017 «Doctor of the Year and Medical Center of the Year-Star of Hope 2017» the 6th annual national award ceremony was organized by National Confidence Council.
«TONUS-LES» LLC was declared «PHARMACEUTICAL COMPANY OF THE YEAR».
The general director of the company L. Hakobyan mentioned in his speech-«This award is an evidence of the nationwide high trust, but at the same time it is very obliging.
During its 17 years of operation, «Tonus-Les» LLC has been guided by the principle and mission that the pharmaceutical industry should become more powerful, more stable and more credible».
We can proudly mention that today«Tonus-Les» is one of the leading companies in the Armenian market and has its unique place and image due to its dynamic development.
Today, the scope of the company covers the entire chain of drug manufacturing up to retail and wholesale:
Contract research organization (CRO) and manufacturing of drugs under its own brand name
The official and exclusive representative of a number of various outstanding pharmaceutical companies in Armenia, Georgia and Kazakhstan
Pharmacy chain
Wholesale drug distributor
Product certification body
«FDA Lab» food and drug

analysis

laboratory
«Drug Bioequivalence Study Clinic»
Throughout its career, «Tonus-Les» has received numerous awards, diplomas, letters of gratitude, and even has got the honorable prize «European Quality» in the European Business Summit in Oxford, UK.
The award «The Pharmaceutical Company of the year» will become one of the most important parts of «Tonus-Les» LLC victorious history.
We wish more and more achievements to the company. Congratulations!
«Tonus-Les»-«Health and tonus guarantee»!
https://www.haynews.am/hy/1501227961
https://www.slaq.am/arm/news/1191540/
https://www.slaq.am/arm/news/1191788/
https://www.lratu.am/tarva_bjishk_2017.html