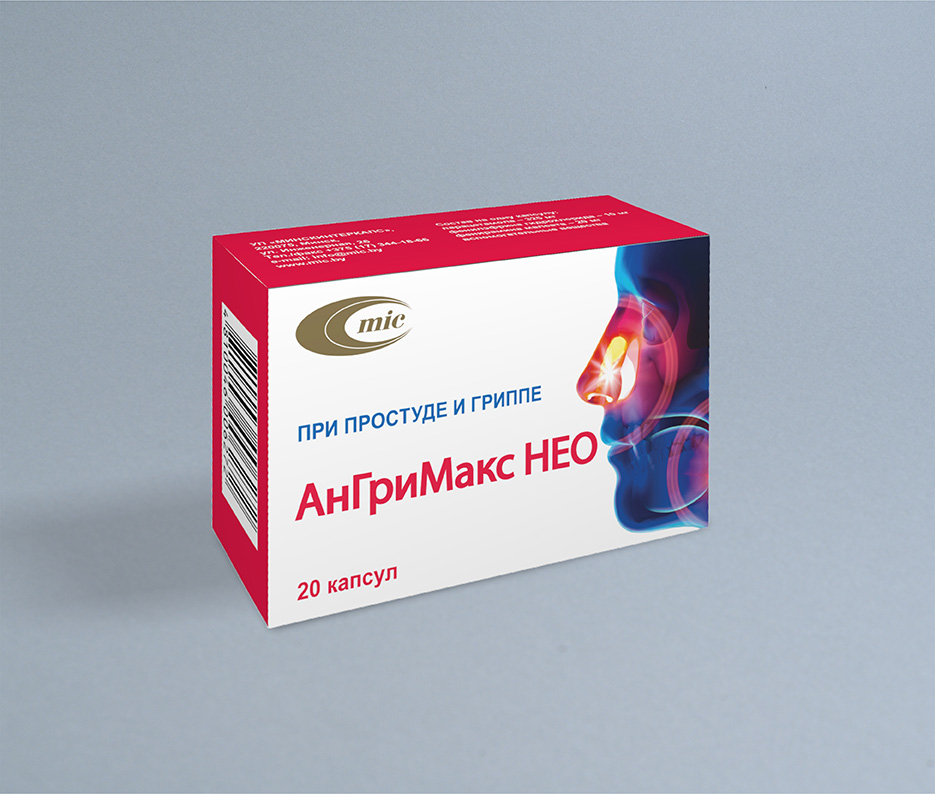 AnGriMax Neo
AnGriMax Neo
For colds and flu
Composition: active substances: 1 capsule contains: paracetamol - 325 mg, phenylephrine hydrochloride - 10 mg, pheniramine maleate - 20 mg.
Excipients - microcrystalline cellulose, colloidal silicon dioxide, potato starch and magnesium stearate.
Pharmacotherapeutic group: Paracetamol in combination with other drugs.
Administration method and dosage:
Short-term treatment of colds, rhinitis, rhinopharyngitis and influenza-like conditions in adults and children 12 years and older, accompanied with:
- transparent nasal discharge and lacrimation;
- sneezing;
- headache and / or fever.
Method of administration and dosage:
Persons over 12 years of age take 1 capsule 2-3 times a day after meals with plenty of water. A repeated dose can be taken every 4 hours (but not more than 3 capsules in 24 hours). AnGriMax NEO can be used at any time of the day, but the best effect is obtained by taking the drug before bedtime.
Contraindications: hypersensitivity to components of the drug, concomitant use of tricyclic antidepressants, monoamine oxidase (MAO) inhibitors, beta-blockers; portal hypertension; alcoholism; diabetes mellitus, pregnancy, breastfeeding period, children under 12 years of age.
Storage conditions: store in a place protected from moisture and light at a temperature of 15 ° C to 25 ° C, out of the reach of children.
Packing: hard gelatin capsules, 10 capsules in a blister, 2 blisters in a carton box along with the insert-leaflet.
Produced by: "Minskinterkaps", Belarus.
See also: www.mic.by