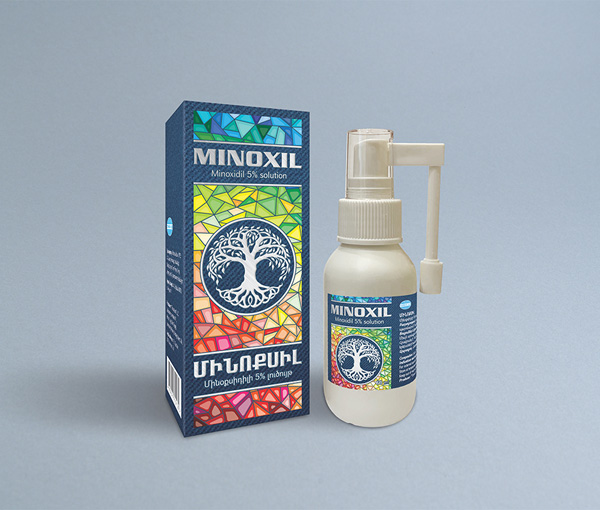 Minoxil - Minoxidil 5% solution
Minoxidil 5% solution
Hair growth stimulant
Composition:
Each 100ml of solution contains 5g Minoxidil.
Inactive ingredients: propylene glycol, ethyl alcohol, lavender oil, purified water.
Indications:
Minoxil is a topical solution for the treatment of hair loss, alopecia and alopecia areata.
lnstructions for use: Minoxil is for external use only. Apply 1 ml (10 sprays) of Minoxil solution twice a day in the center of the bald area of the dry scalp and spread it with massaging movements, after which wash your hands thoroughly. The impact is more significant when Minoxil is used in the early stages of hair loss.
Advantages: Improves hair follicles nourishment due to vasodilator effect. Stimulates the vascular endothelial growth factor responsible for parafollicular capillary growth, promoting metabolic activity.
Neutralizes the effect of dihydrotestosterone and reduces the follicle sensitivity to it.
Stimulates new hair growth.
Directly affects the shift of the hair life cycles, as a result of which most of the follicles switch from the degradation and relaxation phase to the growth phase. Stimulates and prolongs the hair growth phase, strengthening and thickening the hair.
Contraindications:
Hypersensitivity to any components, arterial hypertension, inflamed scalp, dermatitis, psoriasis and sunburn, during pregnancy and lactation and individuals under 18 years of age. Do not apply to the other parts of the body except for head.
Undesirable effects:
Itching, skin irritation, and rarely skin sensitivity.
Package release form: Each Minoxil package contains 5% solution in 60մլ bottle and one spray pump.
Storage: Store at temperature up to 30°C, out of reach of children. Flammable, keep away from heat and fire.
Produced by "Tonus-Les" LLC, Armenia.