The first Armenian vitamin D-"D3 Tonus" is already on sale
2019-04-05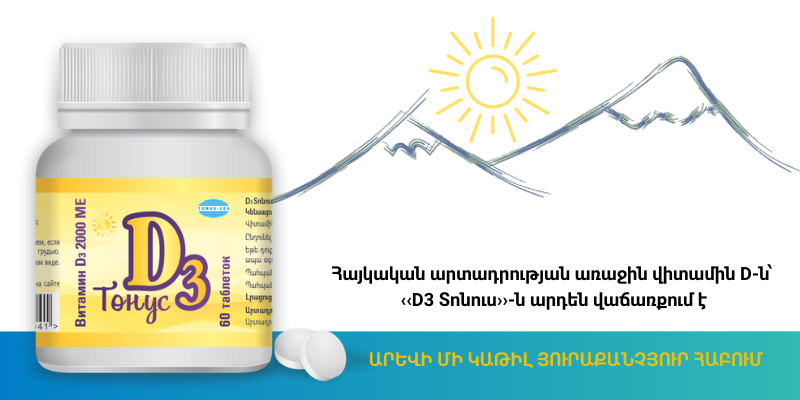 "Tonus-Les" pharmaceutical company presents the first Armenian vitamin D-"D3 Tonus" to consumers. By its high quality it can compete with vitamin D produced in Europe, meanwhile, it has very affordable price.
It is worth mentioning, that there is unreasonable belief among people, that the Armenian sun is enough for getting the sufficient amount of vitamin D. Armenia is surely quite sunny country, but wearing long sleeve clothes and working in indoor conditions hinder the formation of sufficient vitamin D. Moreover, in our daily diet seafood is nearly excluded. Taking into account these factors and the demand in the market, "Tonus-Les" initiated the production of vitamin D in Armenia.
The entire production process of "D3 Tonus", from technology development to final production, was carried out in Armenia in compliance with GMP (Good Manufacturing Practice) standards. Raw material of German origin, quantitative and qualitative compliance make "D3 Tonus" reliable product both in Armenia and in the pharmaceutical market of EEU countries.
"D3 Tonus" puts a start to another successful project of "Tonus-Les" company- production of biological active additives in Armenia.