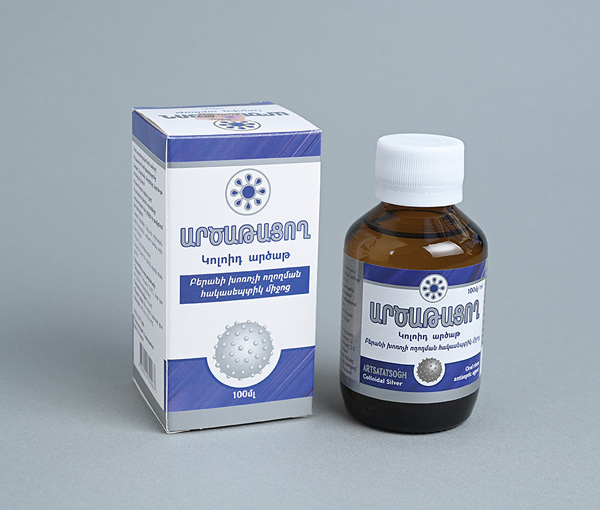 Silverton - 20mcg (20ppm) ionized silver
Silver Shield of Your Teeth !
Oral rinse antiseptic agent for mouth care [Codes ТН ВЭД: 3306].
Composition: 1ml colloid contains 20mcg (20ppm) ionized silver and 1ml de-ionized water.
Properties: ARTSATATSOGH [SILVERTON] is a colloidal solution containing ionized silver nanoparticles, which leave antimicrobial, antifungal and anti-inflammatory action. Can be used for the care of the mouth and throat and for the prevention of certain diseases, fighting the pathogens and preventing the formation of plaque and tartar. Also used before and after ENT and dental interventions, and also for washing the root canal and the tooth cavity.
Does not have pronounced taste, is odorless and colorless.
Does not impair the taste sensitivity.
Microbes do not acquire resistance against silver.
Does not contain alcohol and chlorine.
Does not stain the tongue and the teeth.
Is painless and does not burn on contact with mucosa, and does not stain it.
Administration: Rinsing and/or lotion the oral cavity. It is not recommended to swallow.
Adults and children above 12 years: rinse 1-2 teaspoons (5-10ml) solution for 4-5 min., 3-4 times a day.
Children under 12 years: rinse 1 teaspoon (5ml) solution for 4-5 min., 2-3 times a day.
Caution: Do not use in pregnancy, breastfeeding and hypersensitivity to silver.
Adverse reactions: ARTSATATSOGH [SILVERTON] has good tolerability. Rarely – allergic reactions.
Storage: Store in a cool (15-25°C), dark place, away from electrical equipment.
Packing: 100ml bottle of darkened glass in a cardboard box.
Produced by "Tonus-Les" LLC, Armenia.