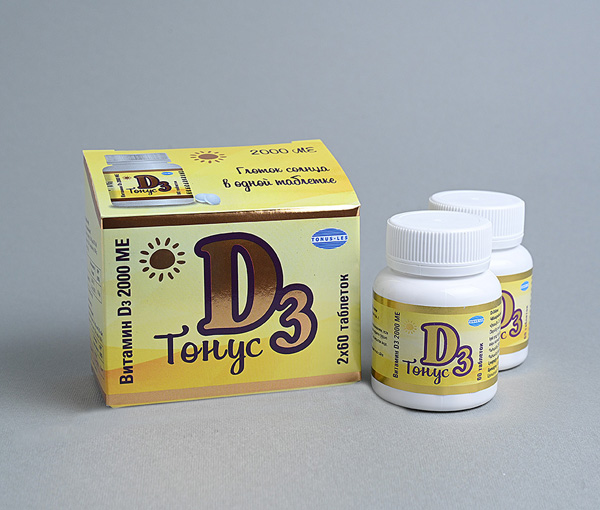 D3 Tonus - Vitamin D3 2000 IU
A drop of the sun in every single tablet
Food supplement
Composition: 1 tablet contains vitamin D3 (cholecalciferol) 2000 IU.
| | Quantity in 1 tablet | NRV* (100%) |
| --- | --- | --- |
| Vitamin D3 | 2000 IU, 50 mcg (500%) | 10 mcg |
*NRV – Nutritional value
Exipients: microcrystalline cellulose, anhydrous silica dioxide, dicalcium phosphate dihydrate, magnesium stearate, carboxymethyl cellulose.
Аpplication аrea: Vitamin D3 promotes:
- maintaining the absorption / utilization of calcium and phosphorus in the body and helps strengthen the musculoskeletal system and teeth,
- maintaining calcium normal levels in blood,
- maintaining the functions of the immune and nervous systems,
- enhancing the body's energy potential.
Vitamin D3 is synthesized in the body under direct sunlight and can be recommended as a dietary supplement for people with limited sunlight exposure.
Instructions: 1 tablet per day, during meals with sufficient amount of water.
Contraindications: individual intolerance to the components of food supplement.
Warning: consult your doctor before use if you are pregnant, breastfeeding or taking other medications.
Presentation form: 60 tablets in plastic container. 2 containers in 1 box. Weight of one tablet - 300mg.
Storage conditions: store at a temperature below 25° C in the original box. Keep out of the reach of children.
Shelf life: 2 years
Priduced by "Tonus-Les" LLC, Armenia