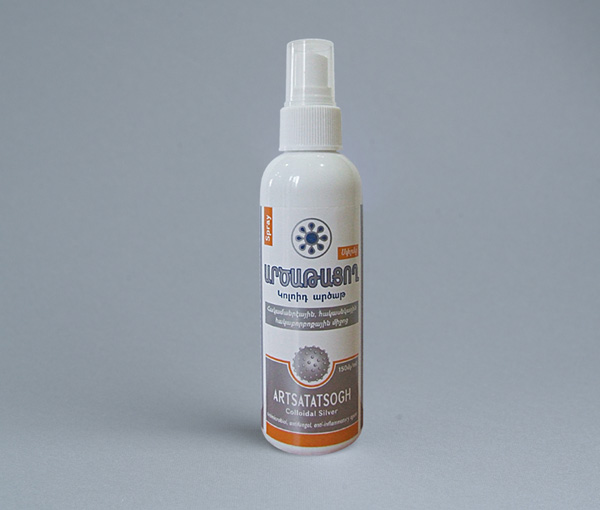 Silverton Spray - 40mcg (40ppm) ionized silver
Silver Shield Of Your Body !
Antiseptic agent for skin and mouth care [Codes ТН ВЭД: 3304 и 3306].
Composition: 1ml colloid contains 40mcg (40ppm) ionized silver and 1ml de-ionized water.
Properties: ARTSATATSOGH [SILVERTON] is a colloidal solution containing ionized silver nanoparticles, which leave antimicrobial, antifungal and anti-inflammatory action. It is used for skin and throat care, as well as for wounds, burns and ulcers.
Does not contain alcohol and chlorine.
Is painless and does not burn on contact with skin or mucosa, and does not stain them.
Microbes do not acquire resistance against silver.
Does not have pronounced taste, is odorless and colorless.
Also has a deodorizing effect.
Administration: Spray on the affected skin 3-4 times a day. If necessary, irrigate the throat 3-4 times a day. Swallowing is not recommended.
In some cases, spray on a cotton pad and gently treat the affected skin 2-3 times a day. Can be used also with tampons.
In case of unpleasant foot odor (odor nuisance), spray on the tampon and treat the affected areas, then spray on the foot and allow drying, twice a day. After that, put on dry socks treated by spray. You also need to spray the shoes and slippers.
Caution: Do not use in pregnancy, breastfeeding and hypersensitivity to silver.
Adverse reactions: ARTSATATSOGH [SILVERTON] has good tolerability. Rarely – allergic reactions.
Storage: Store at 15-25°C, in a dark place, away from electrical equipment.
Packing: 150ml plastic bottle with a sprayer.
Produced by: TONUS-LES LLC, Armenia.