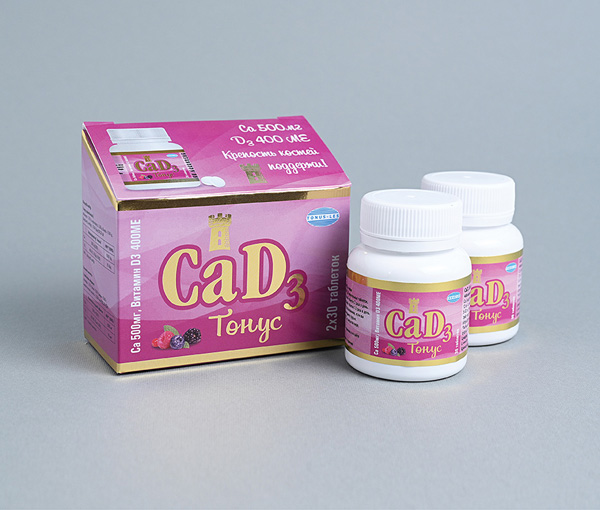 CaD3 Tonus - Calcium 500mg, vitamin D3 400 IU.
Supports the strength of your bones!
Food supplement (FS)
Composition
1 tablet contains: calcium 500mg (as a calcium carbonate (1250mg)), vitamin D3 (cholecalciferol) 400 IU.
Nutritional value
1 tablet contains: carbohydrates - 2.78g; proteins - 0.00g; fats - 0.00g; energy value - 23.94 kcal/ 100.23 kJ.
| | Quantity in 1 tablet | NRV* (100%) |
| --- | --- | --- |
| Ca | 500 mg (50%) | 1000 mg |
| D3 | 400 IU, 10 mcg (100%) | 10 mcg |
*NRV -Nutritional reference value
Scope of application
CaD3 supports:
regulation of the calcium and phosphorus metabolism in the body, strengthening the musculoskeletal system and teeth,
maintaining a normal level of calcium and vitamin D3 in the blood.
Ca prevents the increase in the production of parathyroid hormone, overage of which stimulates excretion of calcium from bones.
Ca is involved in the regulation of nerve conduction, muscle contractions and is a component of the blood coagulation system.
Vitamin D3 increases the absorption of calcium in the intestines.
Calcium intake is especially important during the growth period of the body (to avoid the development of "rickets"), in older people, particularly in menopausal women (to reduce the risk of developing of the osteoporosis), as well as, during pregnancy, in the dose recommended by physician.
Instructions for use
persons over 12 years old - 1 chewable tablet twice a day,
children from 5 to 12 years old - 1 chewable tablet 1-2 times a day,
children from 3 to 5 years old - according to a doctor's recommendation.
Contraindications: individual intolerance to the components of the food supplement.
Warning: consult your doctor before use if you are pregnant, breastfeeding or taking other medications.
Presentation form: 30x2 chewable tablets, weight of each tablet - 1500mg in plastic container. 2 containers in а 1 carton box.
Storage conditions: store at a temperature below 25° C in the original box, keep out of the reach of children.
Shelf life: 2 years.
Produced by "Tonus-Les" LLC, Armeniа