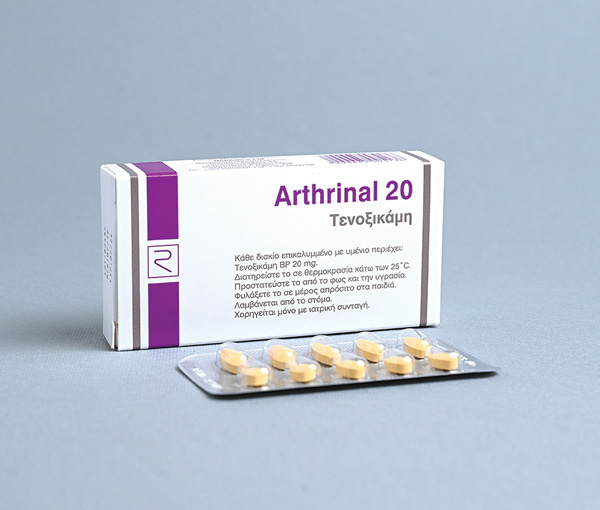 Arthrinal - Tenoxicam 20mg
TAKE 1 TABLET ARTHRINAL TO GET THE PAIN TO FINAL!

Take only by physician's prescription
Composition: in 1 tablet – Tenoxicam 20mg.
Pharmacotherapeutic group: antiinflammatory and antirheumatic products, non-steroids.
Indications: Inflammatory and degenerative diseases of the musculoskeletal system, accompanied by pain syndrome:
Osteoarthritis, rheumatoid arthritis, ankylosing spondylitis (Bechterew's disease), articular rheumatism, gouty arthritis;
Tendinitis, bursitis, myositis;
Back pain, neuralgia, myalgia, sciatica, lumbago.
Can also be used for short-term treatment of a number of pathological conditions:
Pain in trauma and burns;
Migraine, headache;
Toothache;
Algodismenorrhea (painful menstruation).
Administration and dosage: According to a doctor prescription. For oral administration after eating, with water or other fluid. The usual adult dose is 20mg (1 tablet) once a day. Treatment of acute motor disorders usually does not exceed 7 days, but in severe cases the course can be extended to 14 days.
Contraindications: Hypersensitivity to tenoxicam and other NSAIDs or to any of the excipients. History of or active erosive-ulcerative lesions of the gastrointestinal tract, severe gastritis. Gastrointestinal bleeding. Severe heart failure. Severe renal and/or hepatic insufficiency. The last trimester of pregnancy.
Packing: 10 tablets in a blister, in a cardboard box, along with a leaflet.
Produced by "Remedica", Cyprus.
See also: http://www.remedica.eu