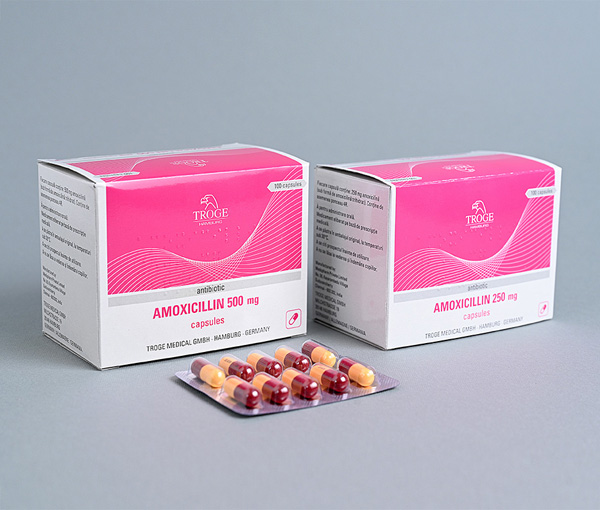 Amixicillin - 250 mg or 500mg Amoxicillin
By prescription only
Composition:
Active substance: Each capsule contains amoxicillin trihydrate equivalent to 250 mg or 500mg Amoxicillin.
Excipients: Magnesium stearate, Sodium lauryl sulphate, Sodium starch glycolate.
Pharmacotherapeutic group: Board spectrum penicillins.
Indications: Amoxicillin capsules are indicated for the treatment of the following infections in adults and children:
Acute bacterial sinusitis
Acute otitis media
Acute streptococcal tonsillitis and pharyngitis
Acute exacerbations of chronic bronchitis
Community acquired pneumonia
Acute cystitis
Asymptomatic bacteriuria in pregnancy
Acute pyelonephritis
Typhoid and paratyphoid fever
Dental abscess with spreading cellulitis
Prosthetic joint infections
Helicobacter pylori eradication
Lyme disease
Amoxicillin capsules are also indicated for the prophylaxis of endocarditis.
Dosage and administration: According to the doctor's prescription. For oral administration.
The dose of Amoxicillin capsules to treat an individual infection should be selected taking into account:
The expected pathogens and their likely susceptibility to antibacterial agents
The severity and the site of the infection
The age, weight and renal function of the patient.
The duration of therapy should be determined by the type of infection and the response of the patient, and should generally be as short as possible.
Contraindications: Hypersensitivity to the active substance, to any of the penicillins or to any of the excipients.
History of a severe immediate hypersensitivity reaction (e.g. anaphylaxis) to another beta-lactam agent (e.g. a cephalosporin, carbapenem or monobactam).
Precautions: Use with caution in patients with hypersensitivity reactions, in case of non-susceptible microorganisms, convulsions, renal impairment, skin reactions, Jarisch-Herxheimer reaction, overgrowth of non-susceptible microorganisms.
Packing: 10 hard gelatin capsules of amoxicillin 250 or 500 mg in a blister. 100 capsules (10x10) in a carton box along with package leaflet.
Storage. Store protected from moisture and freezing at a temperature not exceeding 30°C.
Produced by: "Troge Medical" GMBH, Germany.
See also: http://www.trogemedical.de/