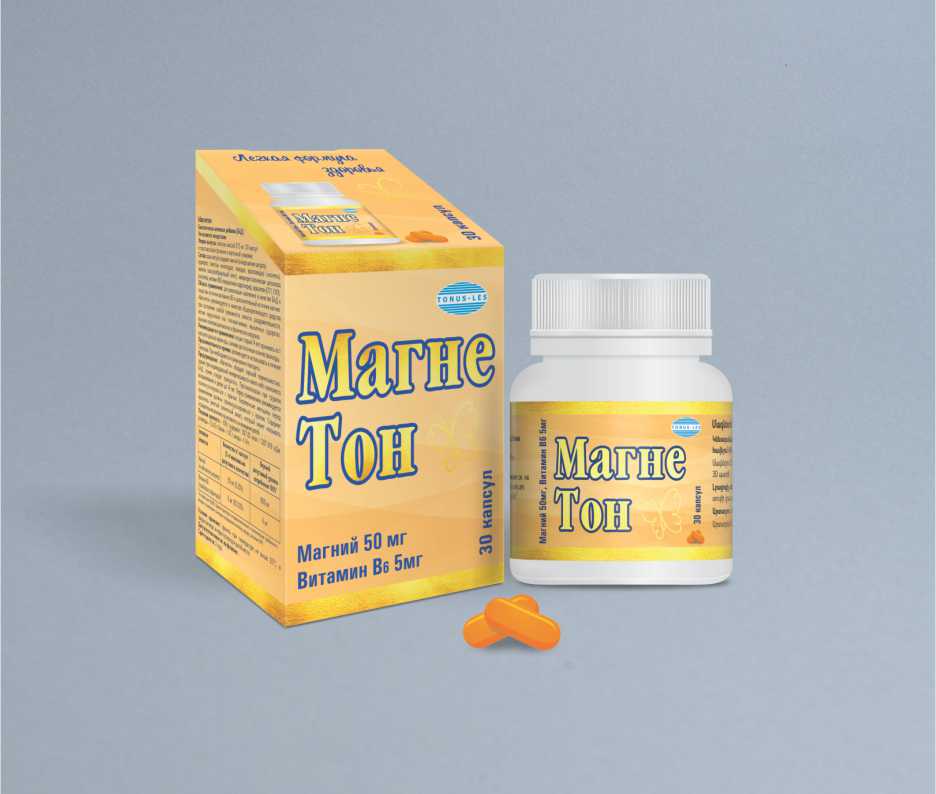 Magneton – Magnesium 50mg and vitamin B6 5mg
Magneton

–

Magnesium

50

mg

and

vitamin

B

6

5

mg
Food supplement
Release form: capsules with a mass of 575 mg, 30 capsules in plastic bottle in a cardboard box.
Composition: magnesium - 50mg (as magnesium citrate 309.4mg) and Vitamin B6 - 5mg (pyridoxine hydrochloride).
Application area: "Magneton" is recommended as a general tonic agent – a source of magnesium and vitamin B6 with mild anxiety, weakness, irritability, slight sleep disturbances, hypomagnesemia, muscle cramps, high psycho-emotional and physical strain.
Instruction for use: people over 14 year's old 1 capsule 1 time per day with meals, with plenty of water.
Duration of use: it is recommended to use 2 months. If necessary you can repeat this course.
Contraindications: breastfeeding and children under 14 years old.
Warnings: "Magneton" is well tolerated, however in case of personal intolerance to one of the components of the food supplement, its use must be discontinued. It is recommended to consult a doctor before using the supplement. Before using the supplement pregnant women must consult a doctor. Contains dye (yellow "sunset"), which can negatively affect children's activity and attention.
Active

ingredients

Quantity in one capsule (% of tolerable upper intake)

Tolerable upper intake

level 100%

Magnesium

(as magnesium citrate)

50 mg (6.25 %)

800 mg

Vitamin B6

(pyridoxine hydrochloride)

5 mg (83.33%)

6 mg
Storage conditions: keep in dry space, at a temperature not exceeding 25°C in closed bottle, out of reach of children.
Shelf life: 2 years.
Produced by: "Tonus-Les" LLC, Armenia.