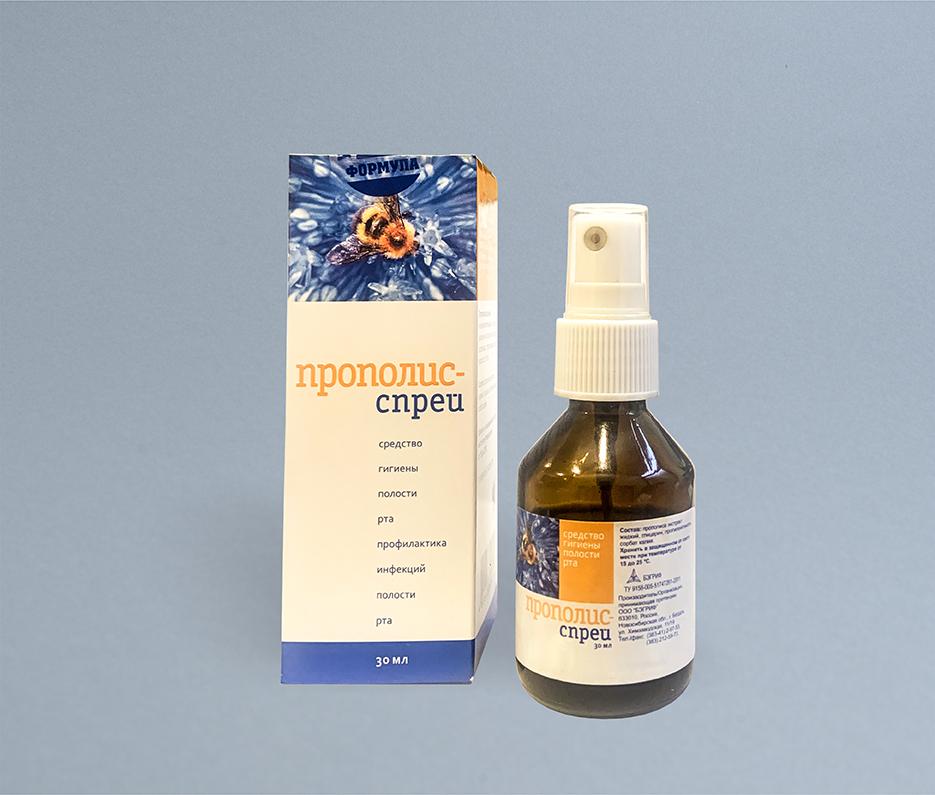 Propolis spray
Product for hygiene and prevention of infections of the oral cavity.

Composition: liquid extract of propolis, glycerin, propylene glycol, potassium sorbate.
Scope of application: helps to maintain the normal physiological state of the oral mucosa and gums.
Administration:
For adults and children from 12 years of age: for prevention - 2-3 sprays to the oral cavity, 1-2 times a day for 5-7 days. If necessary, the application can be repeated on problem areas of the oral cavity with 1-2 sprays, 4-5 times a day for 3-4 days.
For children 6 to 12 years of age: use half of the adult dose.
Contraindications: hypersensitivity to the components of the product, allergic reactions to bee products, hay fever, acute eczema, children under 6 years of age.
Precautions: Avoid contact with eyes or clothing. In case of contact with eyes, rinse immediately with water and contact a doctor. In case of development of allergic reactions, the use of the product should be discontinued.
Storage: keep protected from light at the temperature of 15 to 25°C.
Packing: dark glass bottle 30 ml with a sprayer, in a cardboard box.
Producer: LLC "Begrif", Russia.