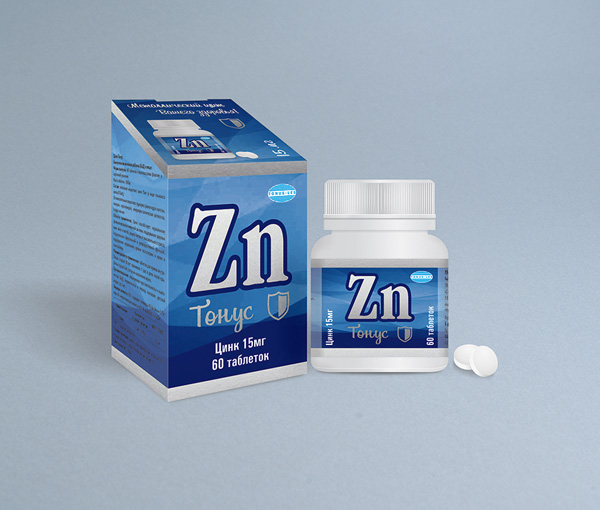 Zinc Tonus
Zinc Tonus - Zinc 15mg
Zinc Tonus
Metal shield of your health
Food supplement
Composition: each tablet contains zinc 15mg (as a zinc gluconate (110mg)).
Nutritional value: 100 g contains: carbohydrates - 93.6 g, proteins - 5.75 g, fats - 0 g, energy value - 401.41 kcal / 1680.62 kJ;
| Name | Quantity in 1 tablet | NRV* (100%) |
| --- | --- | --- |
| Zn | 15 mg (100%) | 15 mcg |
*NRV – Nutritional value
Application area. Zinc contributes to normal functioning of the immune system, maintaining healthy skin, hair and nails, protecting cells from oxidative stress, maintaining fertility and reproductive functions, maintaining normal testosterone levels in blood and protein synthesis.
Instructions for use: tablets for oral administration. For persons over 18 years of age, take 1tablet, once a day after meals. Children over 3 years old, as prescribed by a doctor.
Contraindications: hypersensitivity to the components of dietary supplements, pregnancy and lactation, children under 3 years of age.
Packing: 60 tablets in a plastic bottle, in a cardboard box.
Storage: keep at a temperature not exceeding 25°C in closed bottle, out of reach of children.
Shelf life: 2 years.
Manufacturer: "Tonus-Les" LLC, Armenia.