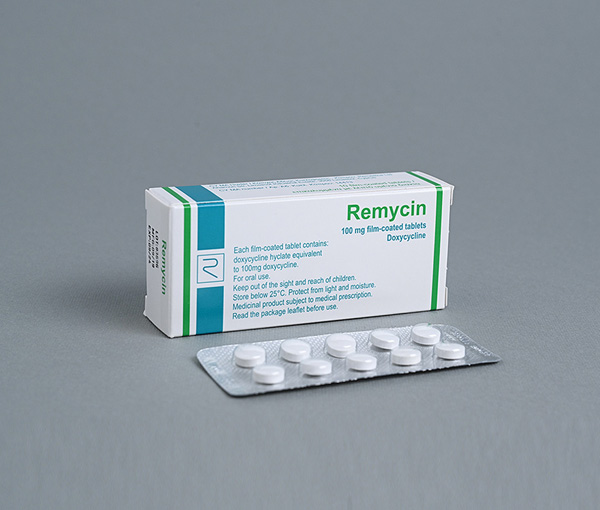 Remycin - doxycycline 100mg
AS THERE WERE NO MICROBES!
Take only by physician's prescription
Composition: in 1 tablet – doxycycline 100mg.
Pharmacotherapeutic group: Tetracycline group broad spectrum antibiotic.
Indications:
Respiratory tract infections (chronic bronchitis, pneumonia)
Infections of ENT-organs (sinusitis)
Infections of the genitourinary system (cystitis, urethrocystitis, mycoplasmosis, chlamydiosis, endocervicitis, gonorrhea, syphilis, chancroid, granuloma and lymphogranuloma venereum)
Ophthalmic infections
Other infections: brucellosis, cholera, ornithosis, typhoid (reverse), tularemia, melioidosis, malaria, amoebic dysentery
Rickettsial infections: Rocky Mountain spotted fever, endocarditis.
As an alternative drug in the treatment of leptospirosis, gas gangrene and tetanus.
For prophylaxis: typhus, travellers' diarrhea, leptospirosis and malaria.
Administration and dosage: According to a doctor prescription. For oral administration.
Standard dosage for adults: 200mg (1 tab. twice a day, every 12 hours) on the first day, followed by 100mg (1 tab.) per day.
Dosage and duration of treatment for various diseases may be different.
Contraindications: Hypersensitivity, age under 12 years old, pregnancy, lactation.
Storage: Store below 25°C, protected from light and moisture, keep out of reach of children.
Packing: 10 tablets in a blister. 1 blister in a cardboard box along with insert-leaflet.
Produced by: "Remedica", Cyprus
See also: http://www.remedica.eu