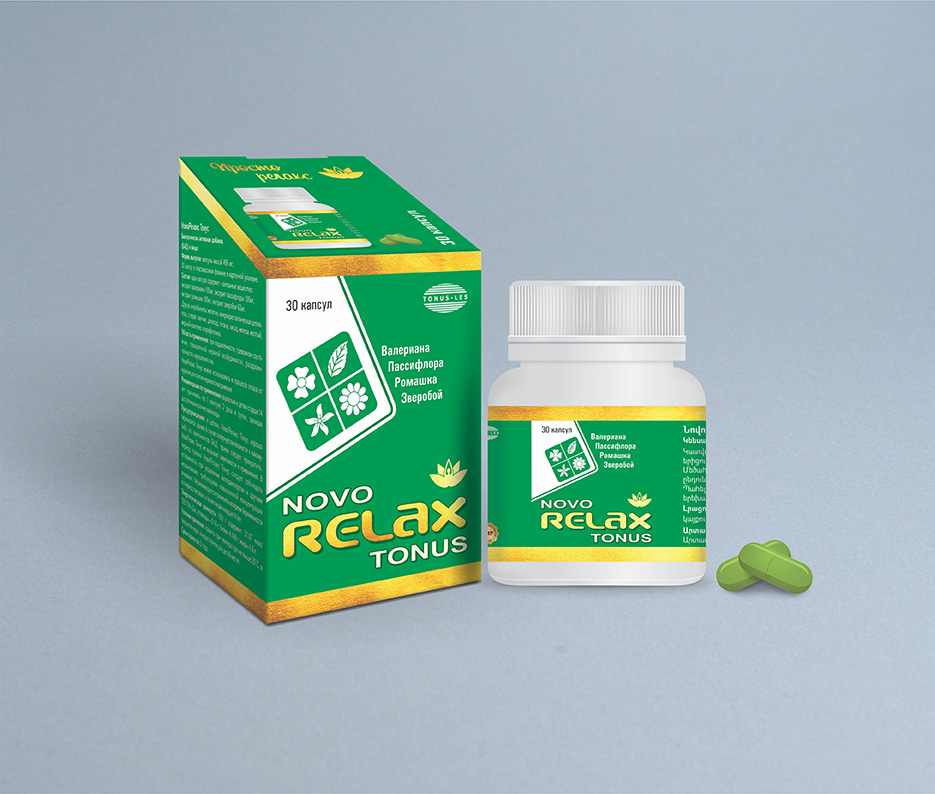 NovoRelax Tonus
Just RELAX !
Composition: in 1 hard gelatin capsule: extracts of Valerian 100mg, Passion flower 100mg, Chamomile 100mg, Hypericum 60mg.
Indications:
Depression, anxiety, reduced motivation
Nervous tension, emotional lability, depression
Neuroses, exam period, "manager syndrome"
Increased nervousness, irritability
Sleep disturbances, insomnia
NovoRelax can also be used for:
Improvement in premenstrual or menopausal syndromes
Restoration of the disturbed functions of digestive tract
Facilitate the process of quitting of cigarette smoking.
Advantages:
High-quality phytogenous components
Good tolerance
No development of dependence, addiction and withdrawal syndrome
American quality, affordable price.
Precaution: Recommended for adults and children over 12 years. During pregnancy and lactation should be used only as directed by a physician.Should be discontinued in case of hypersensitivity to any component of the formulation.
Recommended daily use: Oral intake, with enough water. Adults and children over 12 years of age take 1 capsule 2 times a day.
Caution: Duration of use of NovoRelax is not limited. In the period of treatment should refrain from drinking alcohol and avoid UV radiation for 1-2 weeks.
Packing: 15 capsules in a blister. 2 blisters (30 capsules) with a leaflet in a carton box.
Storage: Keep at 15-30°C. Keep out of reach of children.
Manufacturer : "Tonus-Les" LLC