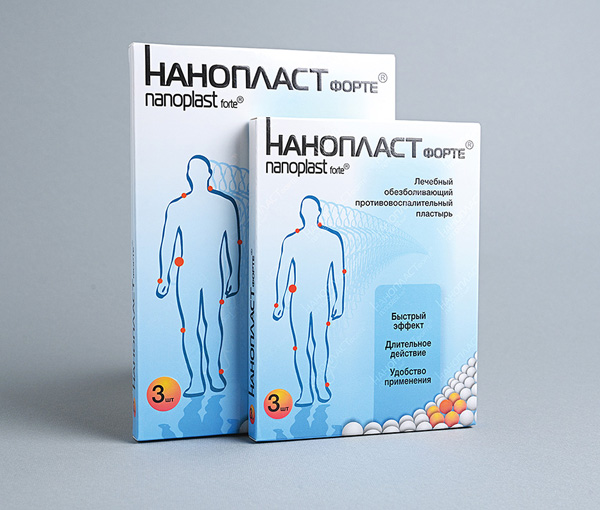 Nanoplast forte
GOT A PAIN? NANOPLAST AGAIN!

Composition: Innovation created on the basis of nanotechnology and Oriental Medicine. Nanoplast Forte® is a thin flexible plate, made from a mixture of nanopowder of rare-earth magnetic materials – producer of infrared radiation, and from hypoallergenic polymer material.The plate is applied to the adhesive base flesh-colored paper and covered with a protective layer that must be removed before use.

Mechanism of action: Therapeutic effect of Nanoplast Forte® plaster is based on the simultaneous anti-inflammatory action of deep and soft heat combined with magnetotherapeutic influence of constant magnetic field.
Nanopowder – producer of IR radiation is activated when heated to body temperature, and provides a long, soft and deep thermal effect on inflammation site. Powder from rare-earth magnetic materials acts on the lesion by the weak constant magnetic field. This combined action leads to an accelerated of blood and lymph circulation, reduced congestion, improved venous drainage and local metabolism in the inflammation site. This provides an analgesic and anti-inflammatory effect improving the natural healing of the affected area.
Medicinal plaster Nanoplast Forte® relaxes the muscles and ligaments, helps to reduce swelling, restoring the function of the musculoskeletal system, reducing the hematoma and bruising in soft tissue (skin, muscles and ligaments) and joints injuries.
Indications: The medicinal anti-inflammatory, analgesic plaster Nanoplast Forte® is a new standard for the treatment of diseases of the musculoskeletal system. It has passed detailed clinical studies based on evidence-based medicine and has demonstrated high efficiency and safety both for the relief of acute conditions and for the complex therapy of different diseases of the joints, spine, muscles and ligaments.
Arthritis, including rheumatoid arthritis;
Arthrosis;
Osteoarthritis, including knee, hip and shoulder joints;
Spondylarthrosis;
Cervical degenerative disc disease, including its symptoms such as headache, dizziness, sensory disturbances of the upper extremities;
Thoracic osteochondrosis;
Lumbar back pain, lumbago, sciatica, and other diseases of the spine, accompanied by local pain syndrome;
Pain in the neck, back, lumbar region due to osteoarthritis and nerve entrapment;
Intercostal neuralgia;
Closed soft tissue injuries – bruises, strains and sprains;
Reduction of joint dislocations;
Skin hematoma and bruising;
Sport injuries.

Medicinal plaster Nanoplast Forte® can be a nice alternative for patients who cannot use oral NSAIDs because of GTI issues.
Advantages:
Leaves a long-lasting effect – up to 12 hours.
Does not restrict movement.
Does not leave marks on the skin and clothing.
Unscented.
Does not contain NSAIDs and hormones.
Practically free of side effects.
Does not have age restrictions.
Contraindications: Pregnancy. Open wound.
Precautions: Sensitive, allergy-prone skin.
Usage: Medicinal plaster is applied to clean, dry skin of the disturbing field for up to 12 hours. The next plaster is stuck on the same place no earlier than 6 hours later. The plaster cannot be reused.
Treatment duration:
Acute pain syndrome – 3-9 days;
Attacks of chronic diseases of the joints and the spine – up to 9 days followed by one-week breaks.
Sport injuries, soft tissue contusions, sprains and muscle strain, hematomas and bruises depending on the severity – 3-6 days, sometimes up to 9 days.

The emergence of a sense of warmth and light burning in the area of plaster's therapeutic action is a normal reaction and does not require the ceasing of use.
The plaster can be used both alone and in combination therapy. It is compatible with various drugs, except for the simultaneous use of other external means for the same parts of the skin. Nanoplast Forte® can also be used in combination with physiotherapy treatments, exercises and massage.

Side effects: Rarely, allergic reactions such as rashes and itching, especially against the background of increased sweating. These symptoms pass quickly when removing the plaster. In case of persistent reactions – stop using and consult a doctor.

Packing: Sealed package with 3 plasters 7x9 or 9x12cm, packed in a cardboard box.

Produced by "Guizhou Miaoyao Pharmaceutical, China. Developer and customer: "Nanotech Pharma" LLC, Russia.
See also: http://www.nanoplast-forte.ru